What is the Purpose of a Spill Kit?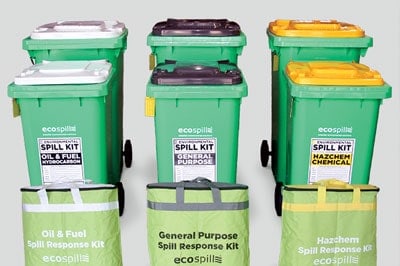 A spill kit is an essential part of any Australian workplace that uses hazardous chemicals and hydrocarbons. Working with such materials carries a risk of spills. These spills can be harmful to you, your staff and the environment. So, it's important to have a plan in place in case this happens. It's also a legal requirement to have a spill kit. At Ecospill we lead the way in industrial spill kit supply and training. We are passionate about safety in the workplace. 
In this article, we will discuss the purpose of a spill kit. What is it? When to use it? Who needs to have one? Keep reading to find the answers to these questions and more. 
WHAT IS A SPILL KIT?
A spill kit is a well-organised set of equipment that has been specifically designed to deal with cleaning up dangerous substances. It enables you to efficiently clean the spill in the safest way possible. Spill kits come in many different forms and can purpose different types of spills. There are kits in duffle bags, wheelie bins and even trailers. The typical contents of a spill kit include:
Waste disposal bags

PPE wear (personal protective equipment)

Absorbents for soaking up the spill

A containment boom for preventing further spread of the spill

Dispersants (in some cases)
The purpose of a spill kit is to contain the spill as quickly as possible and clean it up effectively. As a responsible workplace, it is your job to protect your staff and the environment. Working with hazardous chemicals should not be taken lightly. It is important to prepare for all possible situations. 
WHEN WOULD YOU USE A SPILL KIT?
A spill kit is used when a dangerous chemical spills or leaks in your workplace. The purpose of a spill kit is to contain, control and clean up. The hazardous substances that a spill kit can clean up include (but are not limited to):
Petroleum

Oils

Fuels

Hazardous chemicals

Solvents

Cooking oils

Sewage

Protein fluids
If you work with any of these substances, you should consider getting a spill kit for your workplace. The purpose of a spill kit is to clean up these substances. It is a fast and easy way to deal with an accident involving such liquids. 
WHO USES A SPILL KIT?
Spill kits are used in multiple different workplaces and industries. These include:
Warehouses and workshops

Automotive repair and maintenance shops

Laboratories

Hospitals

Commercial kitchens and restaurants

Transport companies

Shipping depots

Oil, gas and mining sectors

The defence sector

Manufactures

Docks and marinas

City councils and public amenities
Basically, if you are working with hazardous substances, you're likely to need one. It is important to check the Australian Work Health and Safety Act to confirm if your business needs one.
TYPES OF SPILL KITS
There are 3 main types of spill kits: 
General-Purpose – a universal kit used for containing non-hazardous substances. The materials in this kit help to absorb coolants, water, solvents and antifreeze. 
Marine – designed to deal with grease and oil spills. The materials in this kit are designed to repel water, so can be used in an accident such as an ocean oil spill. 
Workshop – suitable for dealing with hazardous chemicals and hydrocarbons. Used mostly in manufacturing plants and industries. 
Unsure which spill kit to get for your workplace? Check out our handy guide to choosing a spill kit. It contains the relevant information for dealing with all types of spills. 
WRAPPING UP
The purpose of a spill kit is to contain and clean up a spill as quickly as possible. It is your responsibility not only for the safety of workers but also for the environment. It is important to familiarise yourself with the type of hazardous substances you're working with. You can then pick a spill kit accordingly. Keep the spill kit in an easy to access area for fast deployment. 
At Ecospill, we offer a range of spill kits to suit each workplace. We also offer training and are happy to answer any questions you may have. Give us a call today to enquire about our range.