Dealing with Chemical Spill Emergencies | Spill Kit Supplier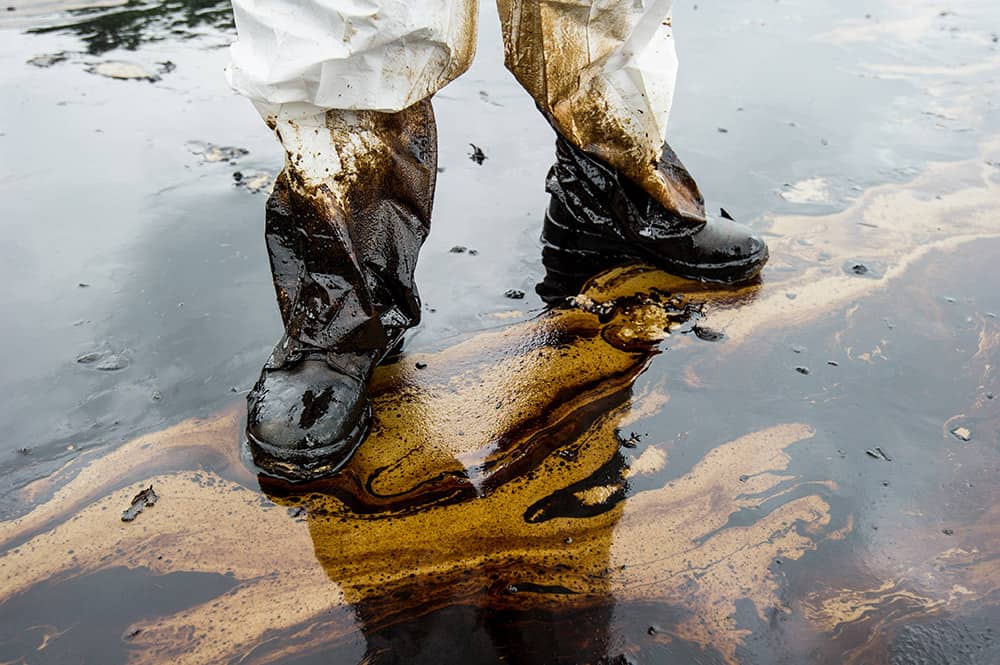 If your workplace deals with hazardous chemicals, you need to have a comprehensive plan in place to manage chemical spill emergencies.
The most important part of your workplace spill response is in the planning phases. Your workplace response procedures need to be both organised and rehearsed.
As a leading Australian spill kit supplier, we're experts when it comes to knowing how to deal with chemical spill emergencies. In this article, we share with you the steps your business needs to take to safely handle a workplace spill.
4 STEPS TO CHEMICAL SPILL EMERGENCY RESPONSE
If your business is well prepared, you reduce chances of injury or damage to property and the environment. In the case of a chemical spill emergency at your workplace, here are the 4 steps you need to take.
ASSESS THE DAMAGE & RISK
The first thing that needs to happen is the assessment of the damage and any immediate risks the spill poses. This begins with identifying what chemical has been spilt and in what quantity.
By the end of your damage assessment, you should have a clear picture of:
– the known hazards of the spill (flammable etc)
– the condition of any contaminated or injured employees
– the status of the area in which the spill took place
Knowing exactly what you're dealing with is the first step in effective response.
USE THE CORRECT SPILL RESPONSE EQUIPMENT
An immediate spill response plan consists of 4 steps. And 3 of these 4 steps rely on your workplace having the correct spill response equipment in place. Otherwise, the effective controlling, containing and cleaning up of a spill becomes difficult.
Spill kits cover everything from PPE to barriers, absorbents, neutralisation agents, waste containers and warning signs. The spill kits you stock at your workplace must be specific to the nature of chemicals handled.
At Ecospill, we specialise in supplying businesses like yours with a wide range of quality spill kit supplies. Our experience allows us to guide you through the process of choosing the right spill response equipment. This ensures that your staff are safe, you make minimal impact on the environment, and that your business is compliant.
COMPLETE INCIDENT REPORTING
Following any chemical spill emergency, the spill responder or designee needs to complete an incident report. Businesses must notify WorkSafe in the event of a serious workplace incident. Failure to comply can result in hefty fines.
Besides WorkSafe incident reporting, any major chemical spills that impact the environment need reporting to your state environmental governing body.
EVALUATE & DEBRIEF
This final step is important for future spill response. In evaluating your response to a chemical spill emergency, you're able to identify any room for improvement. And as with most things in life, there's always room for improvement!
During your evaluation process, ask some of the following questions. This will assist you to see how and where you can learn from experience:
– Was the right action taking by the first responder?
– Was the spill contained effectively?
– Did responders have the correct equipment readily available?
– Did any of the spill response equipment fail?
– Was the level of staff training in spill response enough?
In doing this, you improve your spill response each time, minimising the consequences.
IN CONCLUSION
Dealing with chemical spill emergencies is simplified and effective when the correct processes and equipment are in place.
The 4 steps discussed in this article cover the general process of spill management from start to finish. However, spill management is granular and detailed. Therefore, within each of these 'steps' are various individual processes which, collectively, make up effective spill response.
Is your business equipped to handle a chemical spill emergency? From small workshops to the mining and resource sector, we deliver guidance, training, and quality spill kit supplies. We're here to help you. Contact us and let us take the hard work out of it.